Klondike!
Designing the Boat
---
Very little is documented in writing about the types of boats constructed by the Klondikers at Lakes Lindeman and Bennett. A few authors give some overall dimensions, and there are passing references to materials. Photographs have provided the best resources for figuring out how to reconstruct a period boat. However, many questions remain. For example, various references refer to boat nails (a thick square nail) being packed over the pass and available for fastening. Were galvanized versions of boat nails available, and if so, would they have used them? Were the fastenings clenched, or just driven? We've done the best we can with these unknowns in our re-creation, coming up with the following period elements to be incorporated in the design and construction of the boat:
rough-cut spruce planks (no we're not going to whipsaw the planks! But they will be rough-cut)
cotton-caulked and pitched seams
square boat nails for plank fastenings
sawn frames of spruce, hard chines, spruce chine log
primitive mast and sail rig, as used by the Klondike adventures
simple constant-flare design, with no plank tapers (the prospectors were in too much of a hurry to spile plank!)
After studying many historical photos, reading what accounts of boat details we could, and many, many design iterations and refinements, Harry worked up a final design on his computer in plyboats and printed off scaled drawings at 3/4" to the foot. Lofting measurements were picked of the scaled drawings with a triangular architects scale for the full-size layout.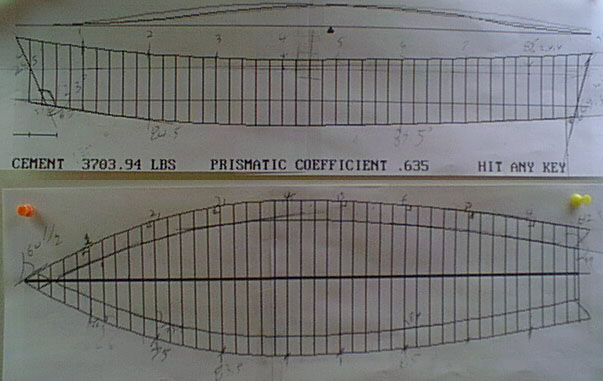 Profile and halfbreadth views of the drawings used for construction.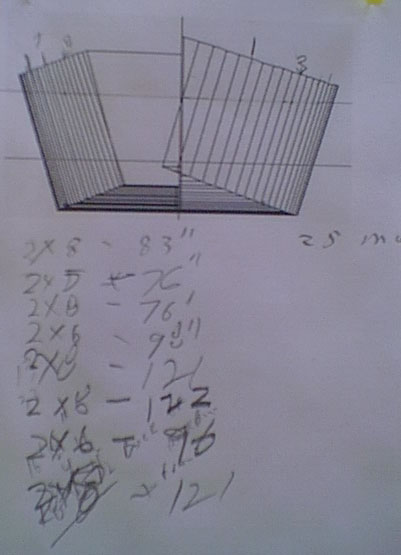 Plan (sectional) view of scaled drawing.

---
Contact: Fritz Funk (fritzf@alaska.net)