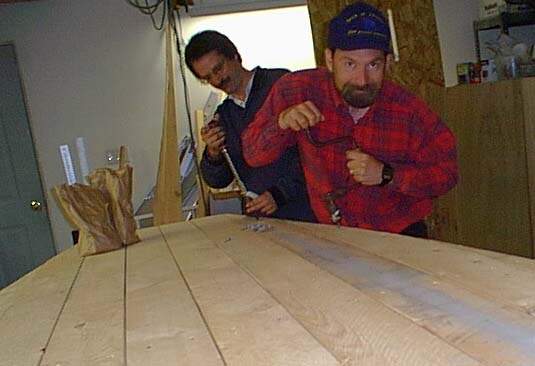 How do you keep modern materials from creeping their insidious way into an historical masterpiece such as this?

Here you see the "Authenticity Police" hard at work, painstakingly poring over the hull, extracting the occasional carelessly-placed modern fastenings and replacing them with laboriously driven, historically and politically correct predecessors. Bruce, of course, refuses to use anything but a Yankee screwdriver ( patented in 1895), while Greg drives only with an ancient brace and bit. They start fires with bows too.

The Authenticity Police are on constant patrol for things like Phillips head screws (invented relatively recently in the 1930s) or Robertson-head screws (better, but still won't pass muster, being invented in 1908).

Its hard work, but somebody's gotta do it...