Gun rack holds the shotgun secure, and ready for action - left hand can drop straight to the forepiece and pull the gun up and over to the shoulder quickly (I shoot right handed). One can just drop the paddle overboard to get a quicker shot off (that's why you carry a spare paddle....a spare paddle, right???)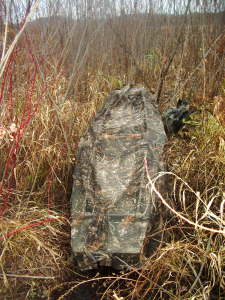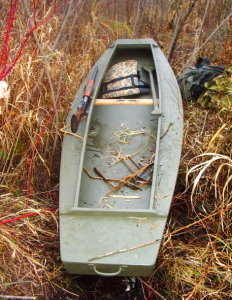 Loaded up, but no decoys. The chins on both transoms are just out of the water, which is the design goal: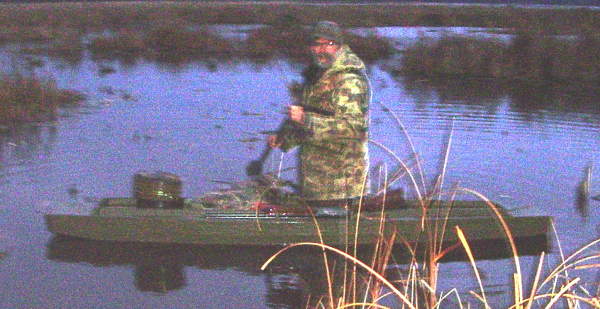 Still working on the fore-and-aft loading arrangements in the following. Paddler is just aft the thwart (you lean into it for added stability), so a tad more weight must go forward. The heavy load in these next 3 photos is distributed too stern-heavy (chin of bow transom is still out of the water though):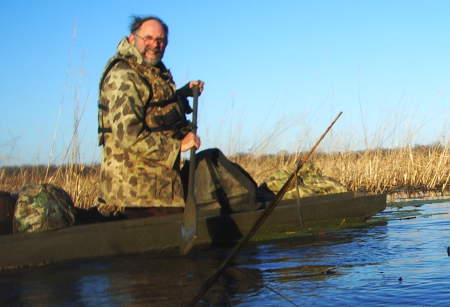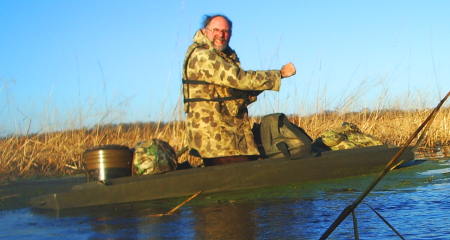 Below, the boat is also rolling towards the camera - it does not really ride this low!
Those photos make the freeboard look lower than it is. I was very comfortable with the freeboard.....again you want to keep the profile LOW for ease of hiding the boat....it felt just about where I wanted it. I envision hunting while standing next to the skiff in waist-deep water next to a stump or muskrat house in the future. Really want a low profile boat for that. (A sinkbox would be perfect, but they are illegal!)
Nested Duck Skiff Home Page