Guppy's First Sail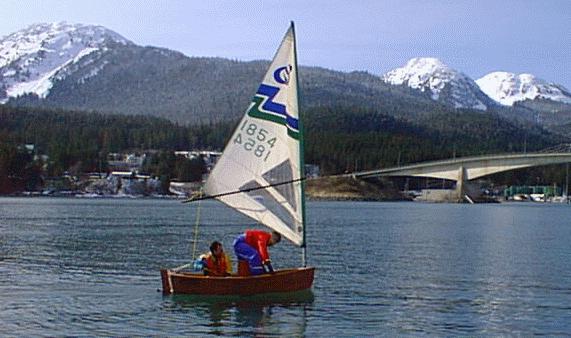 Seth Macinko's Sam Devlin designed "Guppy" went for its first sail over a lunch hour on a sunny Juneau Saint Patricks Day, 1999. A small crowd of skeptical onlookers gathered on the beach to watch, perhaps hoping for some sort of spectacle. There were the usual few bugs to iron out to be expected for a first sail, but Guppy performed very well and looked rather dashing out there on the water (You couldn't say that for Seth's other boat--a Bolger Brick!!). The windsurfer rig performed well and was acquired very economically.

Some last minute adjustments (a few more holes to bore!

The windsurfer mast is stepped and sail clewed out

Threading rudder pintles into gudgeons...a few mistrials ensued during which the Guppy was for a few anxious moments headed straight for an iceberg. Is Seth really going to call it the Titantic?

Seth and Bruce had some interesting moments....

Good light northerly coming down Gastineau Channel for shaking the bugs out...

Time to head back to the office...

Guppy heads up the bank to Seth's van...
Contact: Fritz Funk (fritzf@alaska.net)