Tom Sawyer and Huck Finn would have been right proud of this one. I've wanted to put a sail rig on a jonboat (on the upper Mississippi we call them flatboats) for years.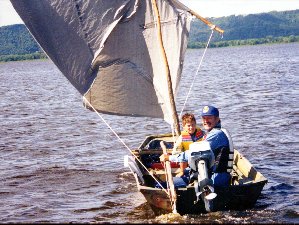 A great day for sailing! Note offcenter rudder, crooked mast, and white leeboard clipped to port side. It works!

Bill Mantis' installment article "Sailing On The Cheap: An Experimental Rig For A Jonboat" in the June 15 to July 15, 2000 issues of Messing About in Boats, spurred me into action. A followup reader commentary in the August 1 issue emphatically stated "it simply won't work" and urged "any motor-boater looking to convert such a vessel to abandon the idea immediately." That really got me going! Though I appreciate Mantis' articles, I prefer an empirical approach over armchair theorizing. His bipod rig was intriguing, but the custom welded rigging didn't look "on the cheap" to me. Besides, I hypothesized that the canted leeboards which were the inspiration for the bipod rig in the first place were not necessary.

The idea here was to spend little or no money on the rig, in order to mesh with the concept of using a readily available jonboat on the cheap. And build it quick!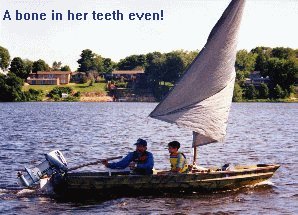 So we're talking about an afternoon or two, duct tape, polytarp sails, a few sheet metal screws, clothesline, and a bowsaw to hack down a few locally available saplings. Spars were green willow, chosen because it was the only species that could be legally cut on the nearby wildlife refuge, and it grows somewhat straight in the needed lengths. The rig is an "Arabian lateen" or "settee", #21 out of Bolger's "100 Small Boat Rigs", selected because Bolger said it would work well with a bendy yard, which would flatten the sail. It's wonderfully low-aspect, the yard can be kept light, its very simple to rig, and no boom to slap you in the noggin.